What are the most famous bars in Nashville? In this article, you'll discover the top spots to grab a drink and enjoy some great music in Music City. From classic honky-tonks to trendy cocktail lounges, we'll explore the iconic establishments that have made Nashville's nightlife scene so renowned. Whether you're a local looking for new hotspots or a visitor planning a trip, this article will guide you through the must-visit bars in Nashville.
What Are The Most Famous Bars In Nashville?
Nashville, the capital of Tennessee, is known as the "Music City" and is widely regarded as the home of country music. With a thriving music scene that dates back decades, it's no surprise that Nashville is also home to some of the most famous bars in the country. Whether you're looking for live music, a unique atmosphere, or a taste of Nashville's rich musical history, these bars are a must-visit during your trip to the Music City.
1. Tootsie's Orchid Lounge
– History of Tootsie's Orchid Lounge
Tootsie's Orchid Lounge is one of Nashville's most iconic bars and has been a cornerstone of the city's music scene since it opened its doors in 1960. Its storied history is deeply intertwined with the legends of country music. It served as a popular gathering place for country music artists, with famous names like Willie Nelson, Patsy Cline, and Waylon Jennings gracing its stage.
– Iconic Significance of Tootsie's Orchid Lounge
Tootsie's Orchid Lounge gained its legendary status due to its close proximity to the iconic Ryman Auditorium, often referred to as the "Mother Church of Country Music." Musicians would often frequent Tootsie's between performances and rehearsals at the Ryman, leading to impromptu concerts and jam sessions.
– Live Music and Atmosphere at Tootsie's Orchid Lounge
Tootsie's Orchid Lounge continues to be a hub of live music in Nashville. With three stages and performances every day, you can catch both established artists and emerging talents showcasing their skills. The bar's electric atmosphere, adorned with photographs and memorabilia from country music's past, transports visitors back in time to the heyday of country music.
2. The Bluebird Cafe
– Intimate Setting and Impressive Lineup
The Bluebird Cafe is not only famous in Nashville but is also known worldwide for its intimate and acoustic performances. The small, unassuming venue has seen some of the most successful songwriters and artists grace its stage, including Garth Brooks, Taylor Swift, and Faith Hill. The Bluebird Cafe offers an up-close and personal experience with artists, allowing you to witness the magic of their songwriting talents.
– Role in Nashville's Songwriting Scene
The Bluebird Cafe has played a pivotal role in Nashville's songwriting scene. It has become a breeding ground for aspiring songwriters, hosting regular open mic nights and songwriter rounds where artists can showcase their original compositions. The venue's welcoming and supportive environment has nurtured the careers of many successful musicians, making it a must-visit for anyone interested in the art of songwriting.
– Notable Artists Who Started at The Bluebird Cafe
Some of the industry's biggest names got their start at The Bluebird Cafe. The likes of Taylor Swift, Keith Urban, and Kacey Musgraves all graced the stage early in their careers, captivating audiences with their raw talent and captivating performances. The Bluebird Cafe has become synonymous with launching the careers of promising songwriters and continues to be a symbol of Nashville's thriving music scene.
3. Robert's Western World
– Honky-Tonk Experience at Robert's Western World
For an authentic honky-tonk experience, Robert's Western World is the place to be. Located on Broadway, this iconic venue brings together live country music, dancing, and a vibrant atmosphere that perfectly captures the spirit of Nashville's music culture. Step inside and you'll be greeted by the twang of a pedal steel guitar and the energy of a lively crowd ready to dance the night away.
– Traditional Country Music and Dancing
At Robert's Western World, traditional country music takes center stage. You'll be treated to a lineup of talented musicians playing the classics that made Nashville famous. From Johnny Cash to Merle Haggard, you can expect a night filled with toe-tapping tunes that will transport you back to the golden era of country music. And if you're in the mood to dance, the spacious dance floor is the perfect place to show off your moves.
– Famous Performances at Robert's Western World
Over the years, Robert's Western World has hosted some memorable performances. Artists like Marty Stuart, Hank Williams III, and even rock legend Jack White have taken the stage to deliver unforgettable shows. The venue's rich history and commitment to preserving the essence of country make it a cherished establishment in Nashville's ever-evolving music landscape.
4. The Patterson House
– Craft Cocktails and Mixology Expertise
If you're looking for a different kind of bar experience, The Patterson House will not disappoint. This speakeasy-style cocktail bar focuses on the art of mixology, offering an extensive list of craft cocktails meticulously crafted by experienced bartenders. From classic concoctions to innovative creations, every drink at The Patterson House is a work of art.
– Speakeasy-style Atmosphere
Step inside The Patterson House, and you'll feel like you've stepped back in time to the Prohibition era. The dimly lit ambiance, cozy seating, and vintage decor set the stage for an intimate and sophisticated evening. It's the perfect place to savor your expertly crafted cocktail while enjoying conversation with friends or a romantic evening with a loved one.
– Classic Elegance and Unique Drinks
The Patterson House prides itself on its attention to detail and commitment to providing a unique drinking experience. The bar's extensive menu features both timeless classics and inventive originals, all made with the finest spirits and fresh ingredients. Whether you're a seasoned cocktail enthusiast or a curious newcomer, The Patterson House is sure to impress with its dedication to excellence.
5. Acme Feed & Seed
– The History of Acme Feed & Seed
Acme Feed & Seed is not just a bar; it's a Nashville institution. Located in a century-old building that once served as a feed store, Acme Feed & Seed pays homage to its roots while offering a vibrant and multifaceted entertainment experience. The venue seamlessly combines four floors of live music, delicious food, and stunning views of the city.
– Multilevel Entertainment Venue
Each floor of Acme Feed & Seed offers a different experience, ensuring there's something for everyone. On the first floor, you'll find a laid-back bar and restaurant serving up Southern comfort food with a modern twist. The second floor features a live music stage, where you can catch local and touring acts showcasing their talents. The third floor is home to The Hatchery, a private event space perfect for hosting parties or special occasions. And finally, on the rooftop, you'll find one of the best views of downtown Nashville, complete with a bar and ample seating.
– Rooftop Bar with Stunning Views
The rooftop bar at Acme Feed & Seed is undoubtedly one of its main attractions. With panoramic views of the Cumberland River and the Nashville skyline, it's the ideal spot to enjoy a drink while soaking up the city's beauty. The rooftop regularly hosts live music and DJ sets, further enhancing the vibrant atmosphere that Acme is known for.
6. The Stage on Broadway
– Live Music and High-energy Performances
The Stage on Broadway is a must-visit bar for any music lover looking for an energetic and lively atmosphere. Located in the heart of downtown Nashville, this bar boasts multiple stages that showcase talented musicians day and night. From classic country hits to rock 'n' roll favorites, The Stage on Broadway offers a diverse range of live music to keep you entertained all night long.
– Large Dance Floor and Crowd Interaction
One unique feature of The Stage on Broadway is its spacious dance floor, which provides ample room for line dancing, two-stepping, and letting loose to the music. The energetic crowd and interactive performances make for an unforgettable experience. It's not uncommon for artists to venture into the audience, creating an intimate connection that truly sets this bar apart.
– Central Location in Downtown Nashville
The Stage on Broadway's central location on Broadway ensures easy access to other popular bars and venues in downtown Nashville. Strolling between bars while enjoying the vibrant street life has become a cherished tradition for locals and visitors alike. So, if you're looking to immerse yourself in the full Nashville experience, The Stage on Broadway is the perfect starting point.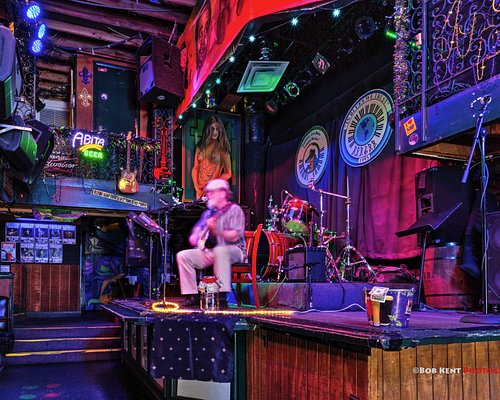 7. Legends Corner
– Long-standing Honky-Tonk in Nashville
Legends Corner is a classic honky-tonk that has been a staple of Nashville's music scene for over two decades. With live music every day, this bar offers an authentic country music experience that attracts both locals and tourists. Legends Corner's unassuming storefront belies the lively atmosphere and unforgettable performances that await inside.
– Authentic Country Music Experience
At Legends Corner, the focus is solely on country music. Talented local musicians take the stage to belt out the classics that made Nashville famous, creating an authentic atmosphere that transports you to the heart of country music history. The bar's dedication to preserving the traditional sound and spirit of country music has made it a beloved destination for music enthusiasts from around the world.
– Famous for Classic Ambiance and Performances
Legends Corner has witnessed some remarkable performances over the years. Big names like Josh Turner, Tracy Lawrence, and Dierks Bentley have all graced its stage, leaving audiences with memories that last a lifetime. The bar's classic ambiance, complete with neon signs, vintage decor, and friendly staff, adds to the overall experience, making Legends Corner a must-visit for any country music fan.
8. Luke Bryan's 32 Bridge
– Country-themed Nightclub and Restaurant
Owned by country music superstar Luke Bryan, 32 Bridge is a vibrant and modern bar that seamlessly blends the worlds of music and entertainment. This multi-level venue features a restaurant, rooftop bar, and dance floor, creating the perfect setting for a night of fun and celebration.
– Variety of Music Genres and Famous Guests
While country music is at the core of 32 Bridge, the bar also showcases a diverse lineup of live music, including rock, pop, and dance. It's not uncommon to spot famous musicians or surprise guests taking the stage alongside talented Nashville artists, adding an element of excitement to every visit.
– VIP Experiences and Events
32 Bridge offers VIP experiences for those looking to elevate their night out. From private booths with bottle service to VIP access to exclusive events, the bar ensures that every guest feels like a superstar. Whether you're celebrating a special occasion or simply enjoying a night on the town, 32 Bridge offers a high-end experience without compromising on Nashville's vibrant and welcoming spirit.
10. Whiskey Bent Saloon
– Traditional Southern Honky-Tonk
Whiskey Bent Saloon is a true Southern honky-tonk with a lively atmosphere and long history in Nashville's music scene. Located on Broadway, this bar offers an authentic experience that's perfect for anyone wanting to immerse themselves in the heart and soul of Nashville.
– Whiskey Selection and Tasting Events
True to its name, Whiskey Bent Saloon boasts an impressive selection of whiskeys from around the world. Whether you're a whiskey enthusiast or just starting to appreciate the fine art of tasting, the knowledgeable staff at Whiskey Bent Saloon can guide you through the vast array of options. The bar also hosts regular tasting events, allowing guests to expand their knowledge and discover new favorites along the way.
– Late-Night Party Atmosphere
Whiskey Bent Saloon attracts a lively crowd looking to have a good time. The combination of energetic live music, friendly staff, and an extensive selection of spirits creates an atmosphere that's perfect for late-night partying. With its central location and vibrant ambiance, this bar is a favorite among locals and tourists alike.
In conclusion, Nashville's famous bars are more than just places to grab a drink. They are symbols of the city's rich musical heritage and vibrant nightlife. From honky-tonks and speakeasies to intimate acoustic venues and modern entertainment spaces, these bars offer a diverse range of experiences that cater to all tastes. So, whether you're a country music enthusiast, a cocktail connoisseur, or simply looking for a good time, Nashville's famous bars are sure to leave a lasting impression.