Did you know that Nashville is not only the music capital of the world, but it also has an incredible array of museums to explore? From history to art to science, there's something for everyone. In this article, we're going to dive into the must-see museums in Nashville that you won't want to miss. Trust me, whether you're a local or just visiting, these museums will leave you inspired and wanting to learn more.
First up on our tour of Nashville museums is the Country Music Hall of Fame and Museum. As the birthplace of country music, it's no surprise that this museum celebrates the rich history and legacy of the genre. From Elvis Presley's "solid gold" Cadillac to Taylor Swift's stage costumes, you'll get an up-close look at the iconic artifacts that have shaped country music over the years. Plus, you can even test your own singing skills in their interactive exhibits!
Next, let's step into the world of art at the Frist Art Museum. Housed in a stunning former post office building, this museum offers a diverse range of rotating exhibitions that span centuries and continents. Whether you're a fan of classical paintings or contemporary installations, there's something to captivate your artistic soul. And don't forget to explore their gift shop, where you can find unique treasures to take home.
Last but not least, let's venture into the realm of science at the Adventure Science Center. This hands-on museum is perfect for curious minds of all ages. From interactive exhibits on space exploration to immersive displays about the human body, you'll be amazed at the wonders of science. And if you're feeling extra adventurous, you can even try your hand at their climbing tower or take a spin on their indoor zip line.
So, whether you're a history buff, an art enthusiast, or a science lover, Nashville has a museum experience waiting for you. In our upcoming article, we'll delve deeper into each of these museums and give you insider tips on how to make the most of your visit. Stay tuned, and get ready to discover the hidden gems of Nashville's museum scene!
Nashville Museums
Must see museums in Nashville
Nashville, also known as the Music City, is not just a paradise for music lovers but also a haven for museum enthusiasts. From art museums to history museums, this vibrant city is home to a rich collection of cultural artifacts and exhibits that showcase Nashville's diverse history and heritage. Whether you are a history buff, an art aficionado, or simply looking for an educational and enriching experience, these must-see museums in Nashville are sure to captivate your imagination and leave you with lasting memories.
Frist Art Museum
For art lovers, the Frist Art Museum is a must-visit destination in Nashville. Located in a magnificent Art Deco building that was once the city's main post office, this museum houses a diverse and impressive collection of art from around the world. From classical to contemporary, the Frist Art Museum offers a wide range of exhibitions that showcase both local and international artists. With its ever-changing exhibits and interactive displays, this museum provides a unique and engaging art experience for visitors of all ages.
Country Music Hall of Fame and Museum
No visit to Nashville would be complete without a trip to the Country Music Hall of Fame and Museum. Located in the heart of downtown Nashville, this iconic museum celebrates the rich history and legacy of country music. Explore the exhibits and learn about the origins of country music, the pioneers of the genre, and its evolution over the years. From the world's largest collection of country music artifacts to interactive exhibits and live performances, this museum offers a truly immersive experience that pays homage to the iconic sounds of Nashville.
Tennessee State Museum
Step back in time and immerse yourself in the fascinating history of Tennessee at the Tennessee State Museum. From prehistoric artifacts to the Civil War era and beyond, this museum showcases the state's rich and diverse heritage. Discover the stories of Native Americans, early settlers, and influential figures who shaped the course of Tennessee's history. The museum's extensive collection includes artifacts, documents, and interactive exhibits that bring the past to life, providing a comprehensive and enlightening experience for visitors.
The Parthenon
Nashville's Parthenon is a true architectural marvel that transports visitors to ancient Greece. Located in Centennial Park, this full-scale replica of the original Parthenon in Athens is a must-see landmark. As you step inside, you'll be greeted by a towering statue of Athena, the Greek goddess of wisdom and warfare. Explore the museum and learn about the history and significance of this iconic structure. With its awe-inspiring architecture and stunning art collection, the Parthenon offers a unique cultural experience that is sure to leave you in awe.
Adventure Science Center
If you're traveling with kids or simply have a curious mind, the Adventure Science Center is the perfect place to unleash your inner scientist. This interactive museum offers a wide range of exhibits and hands-on activities that explore the wonders of science and technology. From space exploration to the human body, there is something for everyone to discover and learn. The Adventure Science Center also boasts a planetarium, where you can embark on a virtual journey through the cosmos and unravel the mysteries of the universe.
Johnny Cash Museum
Pay homage to the Man in Black at the Johnny Cash Museum, dedicated to the life and career of the legendary country music icon. Located in downtown Nashville, this museum houses the world's largest collection of Johnny Cash memorabilia, including costumes, guitars, handwritten lyrics, and personal artifacts. Dive into the life of this iconic musician and learn about his influence on the world of country music and beyond. The Johnny Cash Museum offers a poignant and personal experience that allows you to get up close and personal with the music and legacy of a true legend.
Lane Motor Museum
For car enthusiasts, a visit to the Lane Motor Museum is a must. This unique museum houses a remarkable collection of over 500 rare and vintage vehicles from around the world. From classic cars to peculiar prototypes, the Lane Motor Museum offers a fascinating journey through the history of automobile design and innovation. Get up close and personal with these extraordinary machines and learn about the stories behind them. Whether you are a car enthusiast or simply appreciate the beauty of automotive design, this museum is sure to leave you inspired.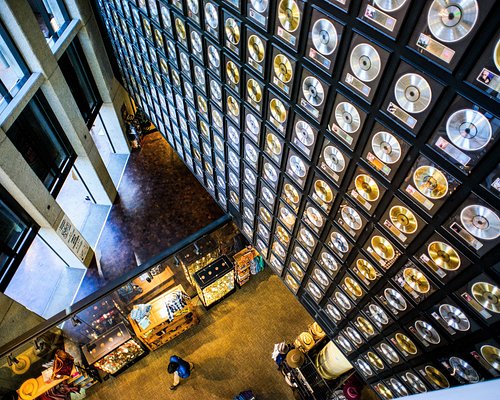 Conclusion
Nashville's museums offer a wide range of experiences that cater to every interest and curiosity. Whether you are fascinated by art, history, music, or science, there is something for everyone to explore and discover in this vibrant city. So, the next time you find yourself in Nashville, be sure to visit these must-see museums and delve into the rich cultural tapestry that this city has to offer. You won't be disappointed!